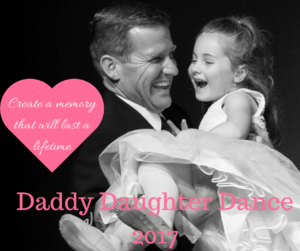 Calling All Dancing Dad's and Their Daughters!
Now accepting registration for the 2017 Daddy Daughter Recital Dance!
The Daddy/Daughter Dance is a wonderful opportunity for fathers to spend quality time with their daughters. Together they will learn a dance and perform during the June recital.
Dancers ages 3 and up are welcome to participate in this years Daddy/Daughter Dance. For the recital, the dancers will wear a white dress and the Dads will wear a black suit. Since we know it can be frustration location a white dress, we will have some options available for you to order.