At Duval Dance and Music Academy, we believe that private instruction is the best way for anyone to learn how to play an instrument. One-on-one instruction means that students are given the instruction that best suits how they learn as an individual. Our music teachers have University training and are highly experienced in the instruments that they teach. Students can start private lessons as young as 5 years old at any time of the year or month. Instruction is available as a 30 minute, 45 minute or 1 hour lesson.
Private classes are available for:
Piano, Keyboard, Voice, Electric Guitar, Acoustic Guitar, Bass Guitar, Flute, Clarinet, Saxophone, and Violin.
Classes are available during the following hours:
Monday – Thursday 3:30pm – 9:00pm
Friday 3:30pm – 7:00 pm
Saturday 9:00am – 2:00pm
Click here to view available private lessons or call our office at 781-545-3100.
Piano & Keyboard Lessons
Our schools offer piano lessons for students of all ages and abilities from beginners to very advanced students. We offer every style of piano lessons from classical to jazz to pop. We start piano lessons from age five onwards. Our piano teachers have university or college training and are active performers. Lessons are offered in 30 minute, 45 minute and 1 hour lengths.
Voice Lessons
In our private voice lessons, students sing all kinds of music from their favorite artists to classical arias. Our voice teachers all have a university degree in music specializing in voice and sing everything. Our teachers all have performance backgrounds as well. Just a sample of what a student will learn in singing lessons includes how to breathe properly, how to increase their range, proper pitch, how to project and stage presence. Lessons are offered in 30 minute, 45 minute and 1 hour lengths.
Guitar Lessons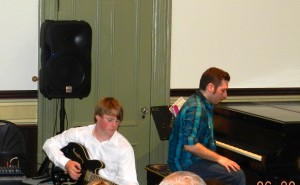 Our guitar lessons include acoustic, electric and bass guitar. We have an excellent guitar teaching staff and teach guitar lessons in everything from rock to jazz and classical to pop. Our guitar teachers have university music degrees so they know the proper theory and technique. No matter what type of guitar lessons you are interested in, we have the teachers to help you or your child. Typically, a student would be eight years old before starting guitar lessons, due to their hand size, but some younger students may start with a junior sized guitar. Lessons are offered in 30 minute, 45 minute and 1 hour lengths.
Violin
Our strings program offers private instruction in violin. Our violin lessons start as young as age 5. Our violin instructors specialize in teaching the Suzuki method. Our violin teachers have university or college degrees in their instrument and many perform regularly with local orchestras or bands. Our private lessons are one-on-one instruction and lesson lengths are 30 minutes, 45 minutes or 1 hour.
Flute & Clarinet
Our private flute lessons generally start at age 7 and older, but sometimes younger students will start with a special curved-head flute. Our teachers have university or college degrees in woodwinds. Our flute lessons are offered in 30 minute, 45 minute or 1 hour lengths. We offer a wide range of styles from jazz to contemporary.
Our private clarinet lessons start from age 8 onwards. Earlier than age 8, a student typically does not have the lung capacity and strength to handle this instrument. Our clarinet instructors actively perform in all types of bands and ensembles and as soloists. Clarinet lessons are offered in 30 minute, 45 minute and 1 hour lengths.