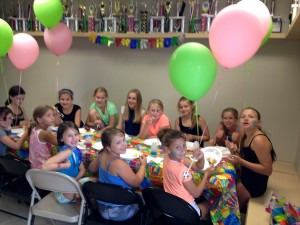 Choose Your Theme:
Princess
Disney
Hip Hop
Disco
Broadway
Acro/Tumbling
What kind of activities are offered?
All children attending the party will be taught various dance steps and combinations based on the average age and theme chosen for the party. Games such as freeze dance, hula hoop contest, musical batons, and limbo will be played. Before all the fun ends, your party will have time to light some candles, sing Happy Birthday, enjoy the refreshments and open presents.
How long is the party?
The party will run 1 ½ hours, led by one of our professional dance instructors. Please be sure to arrive 15 minutes prior to your guests' arrival.
I just wanted to tell you that Piper had an amazing 7th birthday, and Moms were calling me and telling me how much fun their kids had. Your instructor and her helpers were fabulous and Piper really, really had an amazing time, and it looked like every one of her friends did too." -Taryn C.
What is the cost and how many guests can I bring?
Up to 15 children including the birthday girl or boy — $250
16 – 25 children including the birthday girl or boy — $275
(extra ½ hour is $50.00)
What should guests wear?
Leotards, tights and dance shoes are recommended. For children who do not have a leotard, comfortable clothing with socks and sneakers will be fine.
What do I need to bring?
Guests will need to bring a cake, a knife to cut the cake, snacks, and ice cream (optional), drinks (cups will not be provided, so individually packaged drinks are strongly recommended), balloons and decorations (optional). The studio will provide plates, utensils, table cloth and basic decorations.
Thank you so much for hosting a great princess dance party. The girls loved it and had such a wonderful time!" -Ella & Family
How do I book a party?
Please use the calendar below to choose a date and submit a birthday party request. If you have any questions, please contact the studio at 781-545-3100 or duvaldanceandmusic@comcast.net. A $50.00 non-refundable deposit is due to reserve your party date and the remaining balance will be due one week prior to your party.